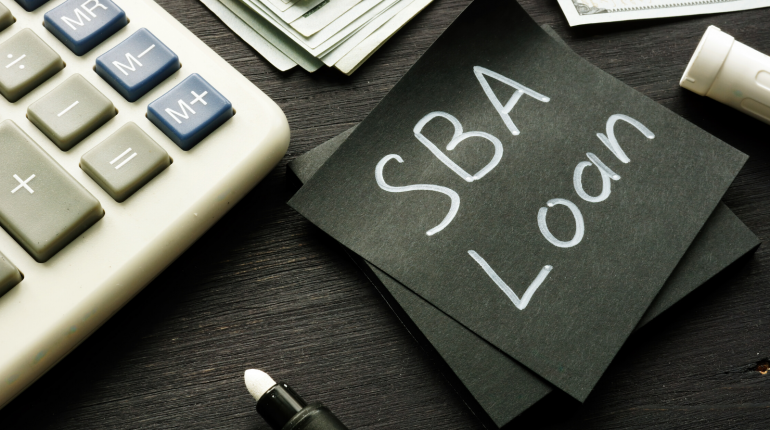 The Small Business Administration (SBA) offers several different types of loans, making getting a loan more accessible to small businesses. Even so, the SBA loan application process can seem daunting, especially if you're trying to do it all on your own. To simplify the process for you, we've put together a list of items the SBA usually looks for in a loan application. As you begin gathering information for your application, this is a great place to start.
A Few Things to Know Before You Begin
Before you begin putting your application together, there are a few important things to know.
First, SBA loans are not given directly from the SBA – they are run through intermediary lenders. Do some research to find a lender you feel comfortable working with, preferably one who has worked with the SBA before and who understands their eligibility requirements.
Second, there are several types of SBA loans available, and their eligibility requirements vary. Your lender can walk you through the specifics and help you find the one that best fits your needs.
Third, if you are looking for 100% financing, an SBA loan isn't for you. The SBA requires that you, as the owner, show that you are investing your own time and money into the business before they will agree to fund your loan.
Once you've chosen a lender and decided which loan to apply for, it's time to put your application together. The application requirements for each loan will vary slightly, but the following is a list of the information you are likely to need when you apply.
Statement of Purpose
Your statement of purpose includes your mission and vision for your business, but it involves much more than that. The SBA expects the following to be included in your statement of purpose:
Your personal background, including previous names and addresses, educational background, and any criminal records. This is a quick snapshot of your personal information that can be verified through outside sources.
Business overview and history. Offer a brief overview of the history of your business, including any challenges you have had. Explain why the loan is needed, how it will positively affect your business, and how you as the owner have already invested your own resources into the business.
Sources and Uses Document – i.e., how you will use and pay back the loan. Include what specifically you intend to use the funds for and provide a detailed, comprehensive plan for when and how you will pay back the loan.
Business Plan
Regardless of which SBA loan you apply for, you will need to provide a business plan showing the future projections for your company. Basically, you want to convince the lender that you are worth the investment. Your lender can usually provide you with an outline or template for your Business Plan, or you can find several online. Your business plan should include, at minimum:
A description of the business, including information about what products or services you provide and an outline of how the business and management team is organized.
Professional Resume for yourself and all management/owners. Your resume should represent your business experience, how well you know your industry and what makes you qualified to successfully run your business.
Financial projections for the next 2-3 years of the business. Where you see your business heading, your plans for growth, and a reasonable projection of your future financials.
Your CPA can help you with your business plan, especially with the financial projections piece.
Financial Statements
As part of your application, you will be required to demonstrate to your lender that you are financially capable of repaying your loan. A lender will want to see that your cash flow is steady enough to maintain a loan payment schedule throughout the ups and downs of business. To show this, you will need to include the following financial statements:
Personal financial statements, including your credit report and score, bank statements, and your net worth, as well as your tax returns and a list of your debts.
Balance sheet for your business that is current (updated within the last 60 days), and possibly monthly or quarterly balance sheets for the past 1-2 years.
Profit & loss statement, also known as a P&L or income statement. Most lenders will ask for a year-to-date P&L statement (updated within the last 60 days) as well as full P&L statements for the past 2 years.
Debt schedule, or a list of debts your business currently owes, preferably broken down into monthly payments and showing interest rates and payment dates.
Accounts Payable and Accounts Receivable Aging Statements. These will show whether payments are being made or received in a timely manner.
Business credit report, if your business is relatively well established. If you have a startup or a newer business, the lender may rely primarily on your personal credit report.
Income tax returns and bank statements, both personal and business. You will likely need 2 years' worth of tax returns. These documents will mainly be used to verify the information on your other financial statements.
Loan Application History, including records of any loans you have applied for in the past.
Your CPA can help you gather your financial statements, so don't hesitate to ask for help – especially if any of these terms confuse you or you're not sure where to find these statements.
Legal Business Documents
The actual legal documents you need will vary depending on the lender you choose, but it's a good idea to pull the following together so you are prepared to provide copies as needed:
Business Licenses, Registrations, or Certifications showing that you can legally do business.
Articles of Incorporation/Articles of Organization and Operating Agreement
Business Lease or a letter from your landlord with the terms of a proposed lease. You may also need copies of the leases for any business equipment you have.
Contracts with third parties, if applicable.
Franchise agreements, if applicable.
A list of ownership and affiliations, including the names and addresses of any subsidiaries and affiliates – ones in which you hold a controlling interest as well as those you may be affiliated with by stock ownership, franchise, proposed merger, or otherwise.
This list is not comprehensive – your lender may request additional legal or financial documents or other information as required – but it should get you off to a good start as you prepare to apply for your SBA loan. In addition, you can find all of the forms you will need for your application on the SBA website.
As a small business ourselves, we understand what it's like to manage all of the day-to-day details of your business, and we're here to help. Wood CPA offers a variety of ​accounting​ services for your business, including outsourced accounting, payroll services, bookkeeping, ​tax planning​, and more. Don't hesitate to contact us for all of your accounting needs – we're here to help you reach your financial goals!